It was an overflow crowd that packed the room for a private dinner and presentation by Phillip T. Zeni, Jr., M.D., FSIR, owner and medical director of Zenith Health and Aesthetics.  His remarks concerning diagnosis and treatment of venous insufficiency and peripheral artery disease were very well received by the Greater Memphis Area Advanced Practice Nurses (GMAAPN) in its special meeting.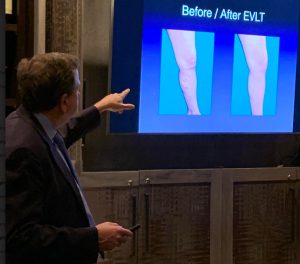 In advance of Dr. Zeni's presentation were remarks by Nikki Uhlhorn, NP, a highly experienced nurse who has trained in venous insufficiency, varicose veins and cardiac therapies.
A tip of the Zenith hat to GMAAPN President Laura Reed, DNP, APRN, FNP-BC, Assistant Professor, University of Tennessee Health Science Center for helping coordinate the event.